Our sp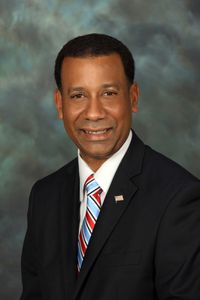 eaker October 7 will be Danny Tillman, Candidate for reelection to the San Bernardino City Unified School District Board. Danny was first elected to the board in 1996 and has served continuously for 26 years.
He is an information systems administrator for the County of San Bernardino Human Services. Tillman graduated from San Bernardino High School and went on to earn an associate degree from San Bernardino Valley College and  a bachelor's degree from California State University at San Bernardino. Tillman has two daughters and two step-children.
We meet at 12:15 p,m., Friday, October 7, at the Juan Pollo Restaurant, 1258 W 5th St, San Bernardino.
Future speakers:
October 14: Mary Ellen Abilez Grande, Candidate for the San Bernardino City Unified School District Board
October 21: Janice Rutherford, San Bernardino County Supervisor, District 2